Year 9 Options 2022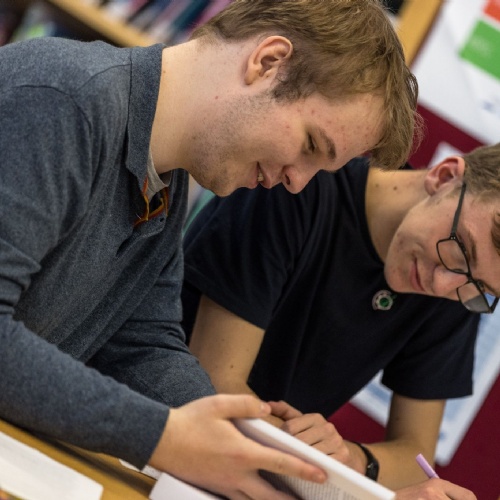 As we enter the second half of the spring term our attention turns to supporting the Year 9 students with the next exciting phase of their education - choosing their GCSE subjects. This is the process by which Year 9 students select the subjects that they would like to study throughout Years 10 and 11.
There are a number of core subjects that students will study and these include Maths, English Literature and Language, Combined Science (unless selecting Triple Science) and History or Geography. In addition to this we strongly encourage students to select either Spanish or French as we believe that a language GCSE provides a cultural and linguistic gateway in to our global community. Furthermore a Language at GCSE is highly regarded by employers and universities a like.
Below is a table illustrating some potential options combinations.

All students will continue to have lessons in PE, Core Religious Studies and PSHE as part of their broader curriculum entitlement. We believe that it is important to ensure the breadth as well as the depth of a student's curriculum. These subjects ensure that the students continue to experience lessons to support their social, spiritual and physical wellbeing whilst meeting DofE and national curriculum expectations.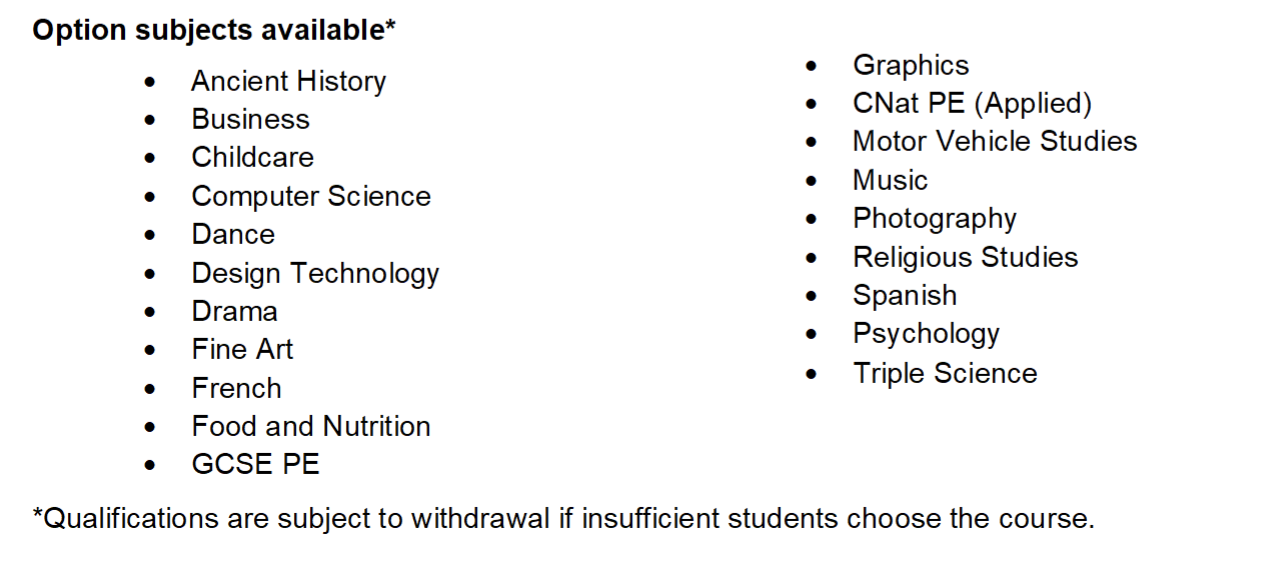 What happens now?
Students will have had an Options Launch Assembly outlining the importance of the decision making process that are about to undertake as well as an idea of the subjects on offer. Over the next few weeks there are series of events designed to further support the students before completing their options form. A link to the form is included here and will also be shared via Teams with the students. A link to the online prospectus is here which contains all the information.
Thursday 10th March: Year 9 Parents Evening and Options conversations.
Week of 14th March: tutorials, individual tutorial time with tutors to provide support, advice and guidance around making subject choices.
Wednesday 23rd March: applications close 4pm
Throughout the process students will be provided with support help and guidance about the importance of the choices that they are making ensuring that their option choices support their future dreams and aspirations, the choices are theirs and not influenced by factors such as friendship groups and the combination of subjects is challenging but achievable for all.
If you have any questions please don't hesitate to contact your child's tutor in the first instance who will be able to either answer your question or direct it to the most appropriate person.
Mrs Gallagher
Deputy Head teacher