DEC Sports Clubs Trip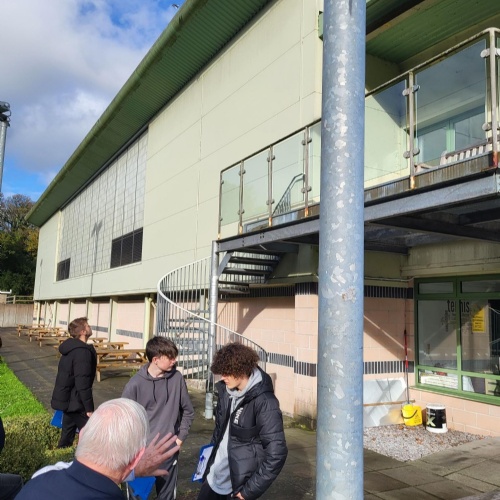 Year 12 Design Engineer Construct (DEC) students have been tasked with creating a comprehensive portfolio for a development over the next two years. Several are designing a new tennis club for Ashburton, so they went on a "sporting road trip".
First they visited Hill Lane Tennis Club and were given the guided tour by Chairman Barry Rodgers, which included the 1970s clubhouses on both its junior and adult sites. Next it was South Devon Tennis Centre in Ivybridge, where they had a guided tour from the architect of the 2003 build and Club President Steve Hitch. This was followed by a tour of the 2017 built Manadon Sports Hub, by General Manager Nicholas Ioannidou, which is home to Plymouth Argyle's Community Trust and encompasses multiple football facilities plus an English Cricket Board ground.
Students learned some really useful design dos and don'ts from; simple things like the use of good signage and ample storage, to roof designs, sourcing different building materials and the importance of ventilation in creating a comfortable environment for the end user.
It was a whistle stop tour which left the students wanting more time for questioning, but gave them a really valuable insight for developing their own designs for the future. Many thanks to Steve and Nick for being so hospitable and informative.
Mr Rodgers