Sixth Form Open Evening Highlights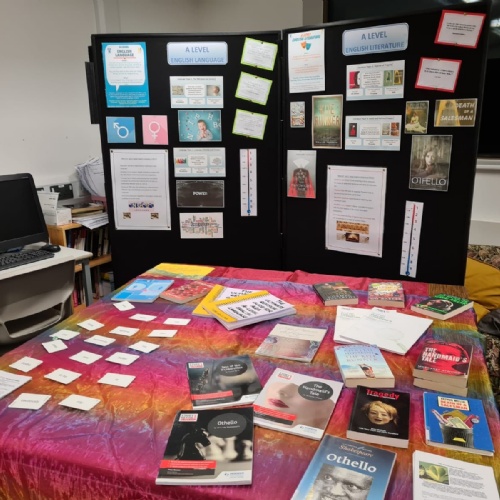 Thank you to everyone who came to our sixth form open evening. For those who weren't able to attend, please see this summary and information.
Staff were thrilled to welcome more than 150 parents, carers and students to our open evening on 25th November. They enjoyed mulled wine, mince pies and some free tasters from our student led coffee bar The Bean Machine.
We had some great feedback parents, one commented: "First impressions are it was a really positive evening, very professional and welcoming. Good induction by Mrs Veal and Mrs Gallagher which was informative, to the point and down to earth. Thank you to you and your team - it looks a promising option as the next step."
Executive Head Teacher Mrs Veal said: "Thank you so much to everyone who attended our open evening. It was such a lovely evening, a great turnout and really, really positive. We calculate we had in the region of more than 80/90 families represented and close to 150 people there. I had a lot of positive comments from parents about how impressed they are with the school and there were lots of happy Year 11s present who are keen to stay with us next year, which was lovely to hear. "
Parent responses to our question: "What are the main factors influencing your choice of post 16 provision?" included:
Current good GCSE and A Level results
Wide choice of courses
Location
Familiarity
Our new site
My child's interests are covered
Good transport
Smaller class sizes
Good relationships and confidence in support from staff in main school.
Previous positive experience of six form
Care and pastoral support offered to students as well as expectations to achieve full potential
Head of Sixth Form Emma Gallagher said: "We have a sixth form of unquestionable excellence, but the best choices are informed ones so evenings like these are vital for parents to get a good feel of what we can offer. We are proud of our sixth form and that it is in the top 10% nationally for outcomes and quality of teaching and learning.
"We are here to support you and to help your children to be the best possible version of themselves. To equip them with the skills, resilience, independence and outcomes to make their mark in society. We are a community which is invested in you as individuals, which values you for the fantastic individuals that you are."