National Sailing Champion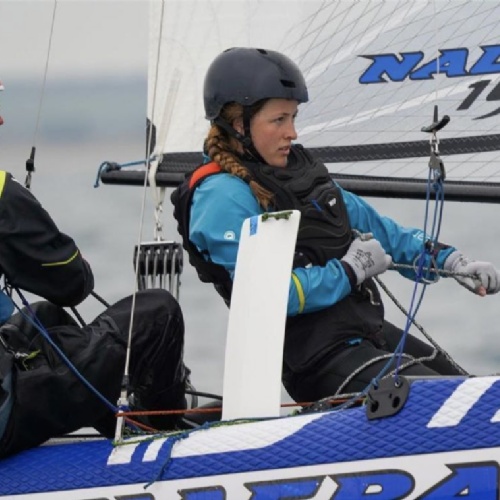 Year 13's Izzy S took top spot at the Royal Yachting Association's Youth National Sailing Championships in Pwllheli, north Wales, during the first week of the Easter holiday.
Sailors from across the UK made the trip to enjoy five days of varied wind conditions and even more variable sunshine, battling it out across all the main classes of boat. Izzy and her sailing partner Sam sail a Nacra 15, which is a high-performance catamaran and they were thrilled to win in this competitive class. Another South Dartmoor student, Tesni K, put in an exceptional performance coming fifth in the class.
Back at home in Devon, both students sail Hurricane catamarans regularly at Starcross Sailing Club on the Exe estuary. Following success at the nationals, Izzy was then asked to crew at very short notice (due to injury) on a Nacra 17, a foiling catamaran, at the French Olympic Week at Hyères on the Mediterranean coast. Despite having never set foot on the Nacra 17 before, she jumped at
this fantastic opportunity to experience an international regatta alongside many of the
sailors who took gold, silver and bronze medals at the last Olympics.
During the week, Izzy discovered that the bigger, foiling boat requires a whole new level of
fitness and synchronicity between helm and crew, and she came away with much valuable
learning to put into practice at the next big event at Lake Garda in August.
If you are curious to see just how fast these boats go, then have a look at the beginning of
this video which also features a great race start by the British Olympic duo Anna Burnet and John Gimson.