Rugby Match Report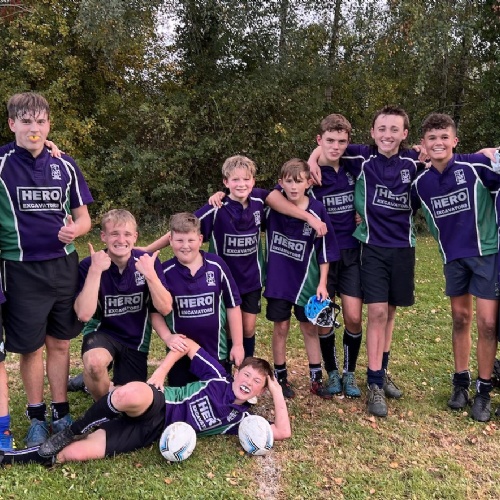 A group of Year 8 students attended a local rugby tournament on 12th October, with a round robin between SDCC, Teign, Kingsbridge and Newton Abbot College. SDCC played Teign in a friendly warm up match before the two schools combined to face the other two teams.
We arrived to see two schools already warming up with some big squads, despite this our students went out and trained before our first game vs Teign School. Teign only arrived at the tournament with five players! We decided to have an 8 v 8 game with Teign which our students came away victorious 45-0 (no conversions were taken)!
After this game, SDCC and Teign decided to team up for the remainder of the tournament where the newly appointed 'Teign Dartmoor' would take on Kingsbridge. In a very close first half, we scored just before the half time whistle to put us 10-5 ahead. We started the second half just as we ended the first, immediately scoring off kick off before winning the game overall 25-15.
Next was the last game of the tournament vs NAC. Kingsbridge had beaten NAC while we played Teign however with NAC having a game off they were well rested before facing our combination team. A high scoring first half saw us go 15-5 up before conceding on the stroke of half time with a brilliant pass from NAC to send their winger in for a score. But 'Teign Dartmoor' came out for the second half with a second wind behind them, scoring another two tries and not letting NAC even into their own half for the rest of the game while also having two tries ruled out for being held up over the whitewash. Final score 25-10 to our combination team.
A great evening going unbeaten, the students represented the school incredibly well and were well accommodating to the Teign students who we combined with.
Mr Malone
Teacher of Physical Education