Careers
The Careers Office is situated in the office next to Bright Beginnings. We offer CV and Personal Statement support, individual career interviews, mock interviews, help with work experience, independent careers advice and guidance, support with college and apprenticeship applications and choices.
If you have any queries please contact the Careers Department: Contact us
Careers Library – we have university and college prospectuses available to look at in the Careers Office. If students require their own copies these are available or can be ordered. The Careers Library also has information about apprenticeships, including current vacancies and gap years. There is a notice board with tips on CV/PS writing and part-time job vacancies.
Careers Advisor
My name is Julie Randell and I am the South Dartmoor Community College Careers Advisor.
I understand the current situation is extremely difficult and worrying, especially for those of you with children in Year 11 or 13 who should be doing GCSEs and A Levels this summer
In terms of progression to sixth form, college or university, I would like to offer my support to you, to help you try to plan for your children's futures.
I will be available through email, chose Careers Advisor via the Contact us page and it may be possible to conduct a careers interview through a video calling service.
Please do not hesitate to get in touch if you have any questions surrounding careers, courses and qualifications.
Careers Fair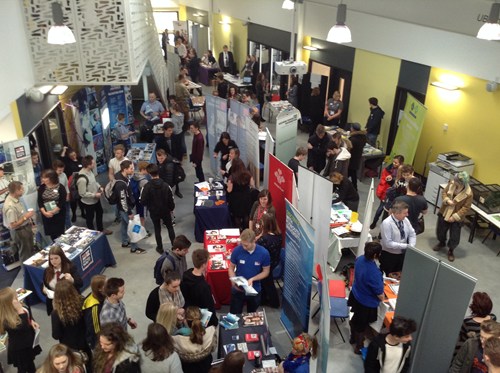 The last careers fair was a huge success with more than 45 stalls including The Met Office, armed services, training providers, law, local colleges and universities. The students' behaviour was commented on by most exhibitors, please see below:
"We were particularly impressed with the attitude and behaviour of your students
"Plenty of student engagement"
"The majority of the pupils asked very good questions and expressed a high level of interest."
"Most impressed at how interested your pupils were."