PASSPORTS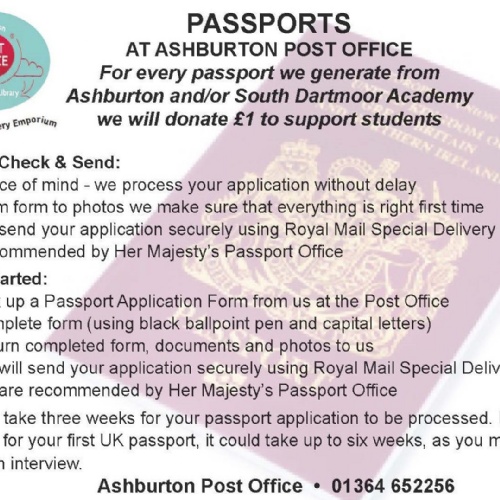 Passport Check and Send
-Peace of Mind- we process your application without delay
-From form to photos we made sure that everything is right first time
- We send your application securely using Royal Mail Special Delivery
- Reccomended by Her Majesty's Passport Office.
Getting Started:
- Pick up a Passport Application Form from us at the Post Office
- Complete form (using black ballpoint pen and capital letters)
- Return completed form, documents and photos to us
- We will send your application securely using Royal Mail Special Delivery
- We are recommended by Her Majesty's Passport Office.
It should take three weeks for your passport application to be processed. If you are applying for your first UK passport, it could take up to six weeks, as you may need to attend an interview.
ASHBURTON POST OFFICE . 01364 652256.