FA People's Cup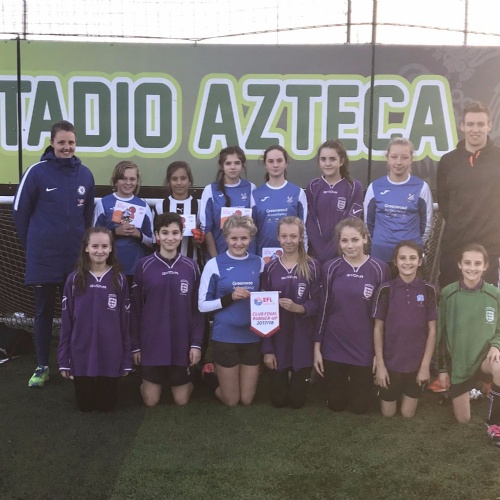 FA People's Cup
South Dartmoor's girls' football teams only started playing two years ago, but last week reached the Final of the FA People's Cup County round, losing by the narrowest of margins on a sudden death penalty shoot out in the Devon championship. Over 15 teams took part in the competition and the girls came up against some quality players. SDCC One qualified from their group winning their matches 5-1, 4-0, 6-1 before making it into the Final. The team started brilliantly, taking the lead in the first 10 seconds through Libby Gimson, however the girls were then pegged back with a late goal taking the match to penalties. Despite being were knocked out 5-4 on sudden death penalties, Mr Pryke and Ms Reed were incredibly proud of the team's achievement.
The other South Dartmoor Two team improved throughout the competition, narrowly missing out themselves on a semi final place. The continued improvement of all the girls and their enjoyment made it a memorable day for all. South Dartmoor are continuing to build on the girls football team success, in prepartion for the World Youth Cup in Sweden next July!
Under 13 Girls Team:
Team One: Evie Ganney (C), Libby Gimson (VC), Meirah Codreanu-Khan (GK), Sarah Amos, Tatiana Musialska and Sarah Amos.
Team Two: Ella Christophers (C), Darci Turpin (VC), Cleo Whitbread (GK), Lucy Whitbread, Arwen Davies, Ruby Green and Luana Lopes.