South Dartmoor Sport Leaders ​​​​​​​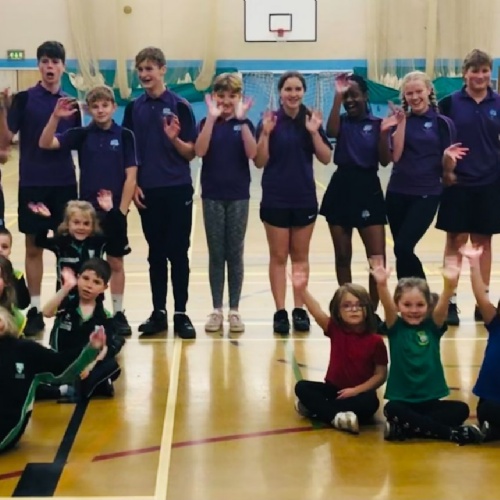 Autumn term 2021 saw the return of sport festivals and tournaments for our local primary schools. These were the first since March 2020, when the pandemic prevented them from happening. We ran different events across the primary age groups for the South Dartmoor Learning Community schools.
These events were designed for specific targeted different groups of children, providing opportunities for all. The events we ran were the Year 5 and 6 Personal Challenge Festival, Year 3 and 4 Bee Netball Festival, Year 5 and 6 Bee Netball Festival, Year 3 & 4 Flie' Bee Netball Tournament, Year 5 and 6 Stinger Bee Netball Tournament and the Year 1 and 2 Invasion Games Festival.
Becky Mason, the SDCC School Sport Coordinator, said: "I wouldn't be able to do my job and run these events without our amazing SDCC sport leaders. They are vital to the smooth running of every event and I am so grateful that SDCC really values their role. They are fantastic ambassadors for the college, role models for the younger children and lead their sessions with such enthusiasm, patience and confidence.
"Hearing a child shout 'this is the best day ever' with a huge smile on their face makes my job totally worthwhile and I know this is down to our sport leaders doing an amazing job encouraging the pupils to take part and develop their skills."
The CTEC Year 12 and 13 students ran the first few events with sport leadership and coaching a key part of their course. Their maturity and organisation was excellent, with some really positive feedback from the primary staff on their leadership.
The Year 9s who led the KS1 festival are doing sport leadership as a "concept pathway" in PE. A Year 1 teacher commented: "My children absolutely loved it… the leaders were truly brilliant – definitely some future PE teachers in there. They were really good with my first time very timid Year 1s. Thank you!"
We look forward to more of the Year 9s having the opportunity to be a sport leader during the spring and summer term events.
Our cluster primary schools have also had further opportunities within the Dartmoor School Sports Partnership with Key Stage 2 cross country, KS2 cyclocross and KS2 den building and team building. Our SDCC sport leaders have been a brilliant support at these events too.