Balletboyz Experience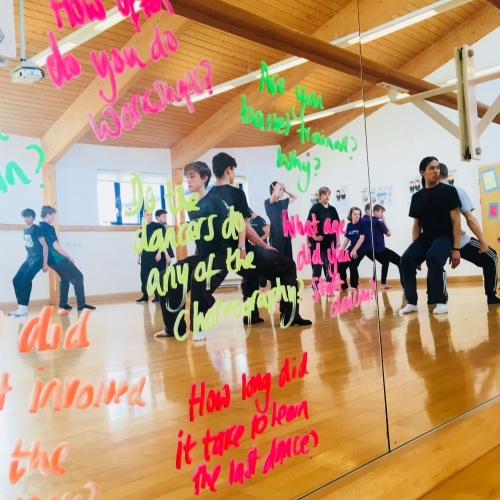 The profile of Boys Dance continues to develop here at SDCC and one professional dance company we have to thank for continuing to inspire the work that we do is The Balletboyz. This company caught the attention of some of our older dancers when we first saw them perform in 2013 and our admiration for the style, energy and talent of the Balletboyz continues to grow. So much so that this year when the Dance Department were given the opportunity to work with dancers from the company here at South Dartmoor we couldn't have been more excited.
Our Boys Dance Company visited The Northcott Theatre on Tuesday 14th November to take their front row seats for the final performance of The Balletboyz 2018 tour 'Fourteen Days'. The performance was exhilarating and captured the creative minds of all 16 boys what attended. The most exciting thought for the students was that they would be learning movement repertoire first hand from two of the company' dancers the following day.
On Wednesday 15th November, the Boys Dance Company greeted Harry & Matt from The Balletboyz as they arrived at South Dartmoor for the workshop and they were eager to get started. The students took part in an intense and challenging warm-up and technique class which was followed by the learning of movement material from The Balletboyz current tour and to finish with they explored new and exciting ways of developing lift work and contact work.
The Boys Dance Company demonstrated perseverance and determination from the very start and it was a huge pleasure to see them working to closely with such talented dancers that they admire. The morning was finished off with a question and answer session in which Harry & Matt were quizzed about dancers in training, the highs and lows of working for dance companies, travelling the world and working with choreographers.
To view more pictures please visit https://www.facebook.com/SouthDartmoorPerformingArts/