Primary School Visits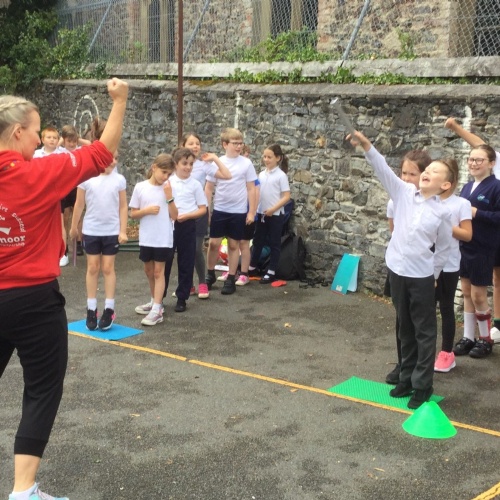 Buckfastleigh, Bovey Tracey and Blackpool Primaries Bespoke Impact Days
This autumn term our Dartmoor School Sport Partnership (DSSP) work has had to adapt. With the Covid-19 restrictions meaning we can't do our usual festivals and tournament experiences, Ms Mason is going out to the schools instead - offering 'Bespoke Impact Days'. Our hope is that every pupil has a memorable experience.
Buckfastleigh Primary school wanted an Interhouse Sports Day Festival, as due to lockdown the pupils missed their usual summer sports day celebration. The four classes in Year 3 – 6 came out in turn to compete in their house teams in four athletics style activities. At the end of the day all the results were compiled together to give the overall results. Medals were also awarded to two pupils per class for being the 'star pupils'. The day was full of smiles, cheers, great team work and healthy competition. There was a real buzz of excitement from all the pupils.
Bovey Tracey Primary opted for a Key Stage 2 cross country for all six of their bubbled classes, along with a Year 1 mini group booster session for some targeted children. It was a very wet soggy day but that didn't dampen the spirits or attitudes of the pupils and staff! It was so wonderful to see all the pupils showing real determination, resilience, and a positive attitude to participating in the run. The first four top times for each boy and girl race for each class were recorded so overall results in each year group could be announced. PE lead Mr Coles organised for every pupil to receive a memento fridge magnet commemorating the day along with medals for winners. Ms Mason also awarded two 'star pupils' from each class who demonstrated the school values. There were some very proud pupils!
Blackpool C of E Primary school also opted for a KS2 Sports Day similar to Buckfastleigh's day, this time with six classes competing in teams celebrating their history topics within the school. Children competed in relay races, hurdles and agility races in their teams. It was wonderful to hear and see the pupils cheering for their team mates and showing such good sporting skills and attitude. It was a great day enjoyed by all the pupils and staff. The Victorians finished 1st overall, 2nd was the Vikings, with the Romans and Egyptians finishing an equal 3rd place. Becky also awarded two 'star pupils' from each class, it was so hard to choose as they had all been so awesome!