SIXTH FORM INDUCTION DAYS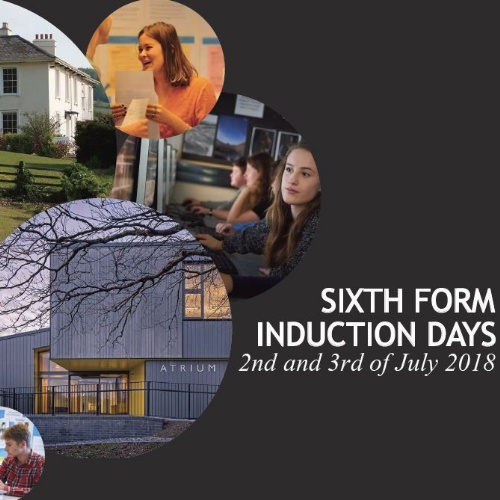 At the Sixth Form, we are seeking to build upon the record accomplishments we have achieved during the past few years, when our results have exceeded those of other local providers, including local independent schools, leading to our 'Good' OFSTED 2018 rating. Our Sixth Forms (South Dartmoor and Atrium) have achieved student progress that places them in the top 5% nationally in 2016 and 2017.

We provide a varied and relevant curriculum offer, including A Level and Level 3 vocational courses. In addition, we have the 'RISE' programme for high performing students who are aiming for entry to Oxford, Cambridge and Russell Group universities.

We offer numerous courses that are not available at all Post 16 establishments, such as our highly regarded A Level 'Classics' and the 'Design Engineering and Construction' Qualification. Additional enrichment opportunities such as educational trips abroad, Duke of Edinburgh Award, Ten Tors, the National Citizen Service programme, and the South Dartmoor Employability Award, also serve to encourage students to distinguish themselves.

Our students have the opportunity to be involved in a range of overseas trips such as school exchange links with Thailand, Football in Sweden, Subject trips to Berlin and Italy, and World Challenge (2017 in Malaysia.)

During their time at Sixth Form, your son or daughter will be given support and advice about progressing to higher education and we will assist with the process of applying through UCAS and Student Finance for funding during their university years, or to apply for apprenticeships and employment.

Our alumni have included students who have achieved Firsts at the University of Oxford, to presenting for BBC, or offered a full scholarship to play football in the USA.

The Induction Days will mirror the 'typical' Sixth Form day, students will be able to experience our excellent pastoral system and opt to try the various subjects in which they have an interest.
For further information, please refer to our website and social media pages, or to book your place on the Induction Days, please contact us on 01364 655420 or email pclark@southdartmoor.devon.sch.uk.