GCSE Results 2022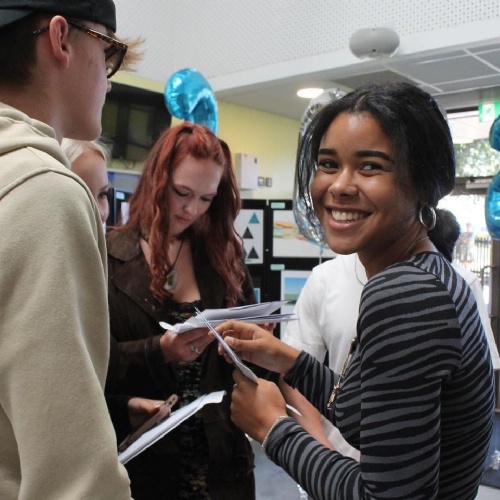 South Dartmoor Community College and the Atrium GCSE Results
Students at South Dartmoor Community College and The Atrium are celebrating impressive GCSE results. Many gained top grades in one or more subjects, 50 students shared a total of 168 top grade 8 and 9s. Overall the number of students gaining a pass in English was 84% and in maths 72%. More than three quarters gained five or more GCSEs or equivalent at grade 9-4.
In addition, 95% of students achieved an A*-A grade for their Higher Project Qualification and there was a 100% pass rate in chemistry, physics, dance, drama, Portuguese, child care and hairdressing - with more than 90% in biology, citizenship and French.
Jen Veal, Executive Headteacher, said: "Students have worked really hard to achieve an excellent set of results of which they can be truly proud. We are thrilled for them. They have shown exceptional resilience and dedication, overcoming significant disruption to their education over the last few years. These superb results are a testament to how well our teachers know both the curriculum and our students, the excellent relationships combined with outstanding subject knowledge has resulted in a set of results of which the college is exceptionally proud.
"We recognise that results are important, but our students are so much more than a set of grades. They are wonderful young people, mature, responsible, kind, intellectually curious and I am proud of them as a year group and as individuals. I wish them the very best."
Emma Gallagher, Deputy Headteacher, said: "We are excited to be welcoming new and existing students in September to our sixth form and to support them with their post 16 education. We would like to take this opportunity to wish our students every success for the future and we look forward to watching them flourish through the next stage of their educational journey, whatever that may be.
"On behalf of the staff, we congratulate all our students and wish them much happiness and success for the future."