Folk Scene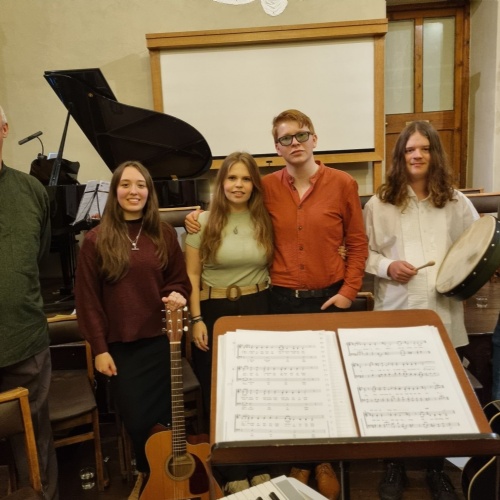 The school's folk ensemble recently performed at a local concert.
Folk Scene enjoyed a successful concert at St Lawrence Chapel, alongside community choir InCon Singers. It was an evening with a range of folk music, from solos and full choral numbers to smaller ensembles. Musical Director Mr Wickenden said he was immensely proud of the performances and is looking forward to seeing them collaborating again in the future.
Cadon, a singer with Folk Scene, said: "It is always a joy to perform in the chapel. The sound produced is just magical. There was that amazing feeling you get when performing with a group of skilled artists, it brings the music that extra level of wow."
Singer Abi commented on the community aspect of the event: "I gained experience performing with other people outside the school environment."
Hannah, singer and keyboardist, said: "The choir were very welcoming to us and it was really nice to hear them all together with the pieces we had rehearsed. The singers all sounded amazing and I loved the harmonies. It was great seeing the community come together to listen and appreciate folk music."
Thomas, keyboard and percussion, added: "The audience was good because they recognised the songs, so they had more appreciation of the music."
Ash, the bass player, was impressed with the professionalism of the choir: "They were supportive and helpful, making me confident to play. The whole choir were great fun to play with. I really enjoyed being a part of that family and would love to do it again."