Adult Ten Tors!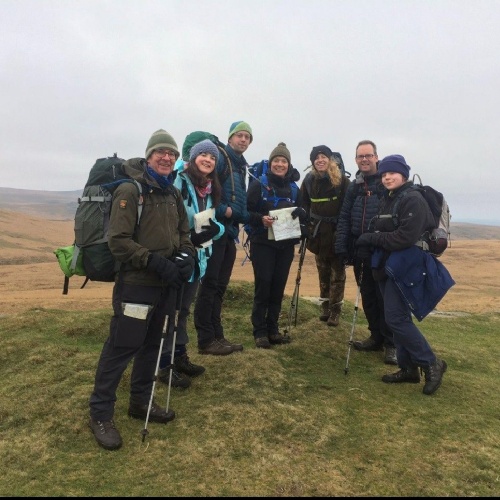 Fifteen South Dartmoor Community College parents and members of the wider Ashburton community are challenging themselves to walk 35 and 45 miles respectively over two days, emulating the Ten Tors Challenge which has recently celebrated its 60th year.
On the 28th and 29th of May the two teams will be fundraising for the outdoor education provision at the school. This will support students to take part in events such as the Ten Tors and Duke of Edinburgh challenges and awards, by helping to remove financial barriers.
It has been a long journey of preparation for the walkers, starting back in October 2021. Since then this committed group has arranged walks to improve their fitness, wild camped to perfect their boil-in-a-bag cooking skills and developed a range of navigation practice by learning from each other and the National Navigation Award Scheme courses.
Outdoor Education Leader Katie Upton said: "The transformation and new levels of confidence in the students who take part in these experiences can be incredible in addition to the brand new skill-set they learn and master. This incredibly dedicated fundraising team will be helping the outdoor education provision team to ensure that we are enabling all students to have these life enhancing experiences while at SDCC and I couldn't be more thankful."
Orange team member Finn Clarke said: "A year ago I was in so much pain I could only hobble down to the local shop, now I've managed 20 miles in one day and accessed parts of the beautiful moors I only dreamt of seeing before – more importantly raising money to support the schools' students to do the 'real' event alongside other award schemes."
Parent Ruth Molins said: "I recently moved to Ashburton, so it was a good way to meet new people, have a physical challenge, learn new navigational skills and the thought of doing this and working closely with them, was both exciting and scary, to be honest. I almost didn't do it but am so glad I did. I imagine that students must have similar anxieties when faced with this sort of challenge and what a fantastic opportunity it is to overcome fears and learn new life skills, the things our children need most for their wellbeing and as a SDCC parent, it is so important to me that the school is able to offer these kinds of experiences to all students."
Local sponsorship from Clayden Associates in Buckfastleigh has enabled the teams to wear team t-shirts, brightly coloured for easy spotting on the moors. Swift Fitness, also from Buckfastleigh, is sponsoring the medals and Field System from Ashburton is funding the pasties supplied by Dartmoor Butcher, a well deserved essential treat at the end of the big trek.
Those taking part are, in the purple team Heatherbelle Bates, Sarah Hunter, Ruth Molins, Jaine Swift and Martin Guille. Orange team is comprised of Amy Tortoishell, John Hill, John Cleverly and Finn Clarke. The team undertaking 45 miles are the returning Ian Glanville and Cara Tomlin, joined this year by Harry Bates, Will Hodge Brookes and Emily Hunter. They will be sporting bright green.
Trekkers will set off at 0700 on Saturday from just outside Okehampton Army Camp, walking a circular route with checkpoints at various points, wild camping and then crossing the finish line for a well deserved pasty and cuppa by 1700 on Sunday.
Fundraising has also been going well with many of the teams setting up JustGiving accounts but also cake sales, silent discos, seaweed foraging and just plain old sponsor forms with the aim of raising more than £3,000.
The link is: www.justgiving.com/friendsofsouthdartmoor